SKY SIGN SYSTEM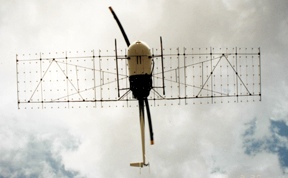 The complete Sky Sign system weighs less than 100 lbs, which includes the LED sign, LED controller, nobebook computer and all attachment hardware.
The standard aircraft alternator will provide ample power to operate the sign, as the complete system requires less than 10 amps during operation.
The initial installation requires an A&P mechanic and should take less than 3 days to complete.
When the sign is attached, there are no unusual flight characteristics, only a reduction of forward speed.
Upon removal of the sign, the aircraft reverts back to it's normal operating category and appearance.
An altitude of 1000 feet above the ground is recommended to provide the best audience readability.
LED SIGN
The installed LED sign is 8ft x 36ft and contains 252 LEDs. The sign contains three sections, each section is 8ft x 12ft and contains 84 LEDs.
This design allows the sign system to be easily shipped, and minimizes storage requirements.
LED CONTROLLER & NOTEBOOK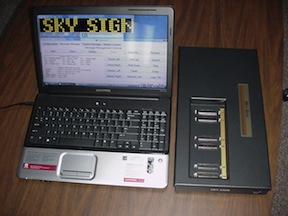 APPLICATION SOFTWARE
The Sky Sign application software provides the following features:
Travel left/right
Scroll up/down
Flash
Speed control
Logos
Sweep left/right
Playlists
Message editor
Real-time sign display
Inverse mode depending on direction of flight
Ground to air remote control
GPS tracking
Available in the premium mobile package only.